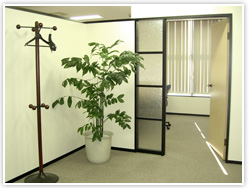 Osaka International Law Offices provides a broad range of legal services in international and domestic legal matters. Our attorneys have significant expertise in areas such as: international purchase agreements; franchise agreements; distribution and sales agreements; construction agreements; joint-venture agreements; mergers and acquisitions; intellectual property; license agreements; establishing a corporation; opening of a branch; real estate transactions; commercial lease agreements; television broadcasting agreements of international sports events; labor cases; divorce, inheritance and living will.
In addition, Osaka International Law Offices has significant experience and knowledge in litigation both inside and outside of Japan. Our attorneys act as counsel for non-Japanese in Japanese courts, and support Japanese involved in litigation procedures outside of Japan. Some attorneys practice in the areas of bankruptcy and intellectual property cases.
Osaka International Law Offices is often asked to assist lawyers from other countries with their legal matters relating to Japan, such as litigation, real property, and inheritance matters.
Osaka International Law Offices' practice areas extend from consultation about domestic civil and commercial cases, including litigation, to international matters.
Our clients are individuals as well as business enterprises, both Japanese and non-Japanese.

The Act on Prohibition of Private Monopolization and Maintenance of Fair Trade
Cases related to bankruptcy including filing of bankruptcy and civil rehabilitation
Commercial lease agreements
Compliance
Construction agreements
Consumer protection
Counsel/representation for litigation both domestic and international
Distribution and sales agreements
Establishing corporations and branch offices
Family matters (e.g. divorce, inheritance and wills)
Franchise agreements
Intellectual property rights (e.g. patent, copyright, trademark, design, the Unfair Competition Prevention Act)
International purchase agreements
Joint-venture agreements
Labor and employment issues
Legal support for litigation outside Japan
License agreements
Mergers and acquisitions
Real estate transactions
Television broadcasting agreements of international sports events
Traffic accidents
Other legal services for enterprises
Other ordinary civil/commercial cases